What is Single Sign-on?
Read more about the Key Benefits of using SSO in an Enterprise
---
Single Sign-on (SSO) is an authentication mechanism. It offers users the means to securely access multiple applications and services with only a single set of login credentials. It is based on the concept of federated identity (FID), which means that all information about the users and which systems they are allowed to access is stored in a centralized and electronic identity platform.
Smooth user experience
The most obvious advantage of SSO is that it provides great user experience by removing the stress of remembering which set of username and password that was used to access which system. Additionally, it empowers the user by providing them with a quick and seamless access to the services and applications they use every day.


Improved protection
Another key benefit of using SSO is increased security by making it easier for organizations to impose password policies. Reducing the burden of password fatigue helps users create long and unique passwords, which are more secure and difficult to break. Additionally, the company may now enforce multi-factor authentication for all application accesses since the users have to pass through a centralized authentication system. Having a single point of entry also decreases the attack surface of a hostile entity. Lastly SSO enables organizations to streamline their access control and access revocation policies, which greatly reduces the complexity of access control management in their entire ecosystem.

Empowering system administrators

SSO and FID gives system administrators the ability to easily manage all issues related to user authentication and user provisioning

in one place.

This is particularly important in larger enterprises, where many users' requirements are managed in a constantly changing ecosystem, often in conjunction with a mix of protocols like Kerberos, SAML or OIDC. SSO can also be used to configure which systems a user should have access to, based on their roles, department or other privileges. This ensures that only authorized personnel have access to various systems within an enterprise.
Reduces costs and saves money
Implementing SSO have several economic benefits for an enterprise:


Requesting password resets is a cumbersome process which often includes the user as well as the system administrator. Two separate studies by Gartner and Forrester

showed that

40% of support tickets

are related to lost passwords, costing an average of 70 USD each.

Keeping user directories updated is time-consuming. SSO and user provisioning allows system administrators to focus on more important tasks than user and group management.
Reducing the risk of phishing attacks and preventing entry to the system by malicious users,
protects critical assets and saves the organization from huge expenses related to a security breach.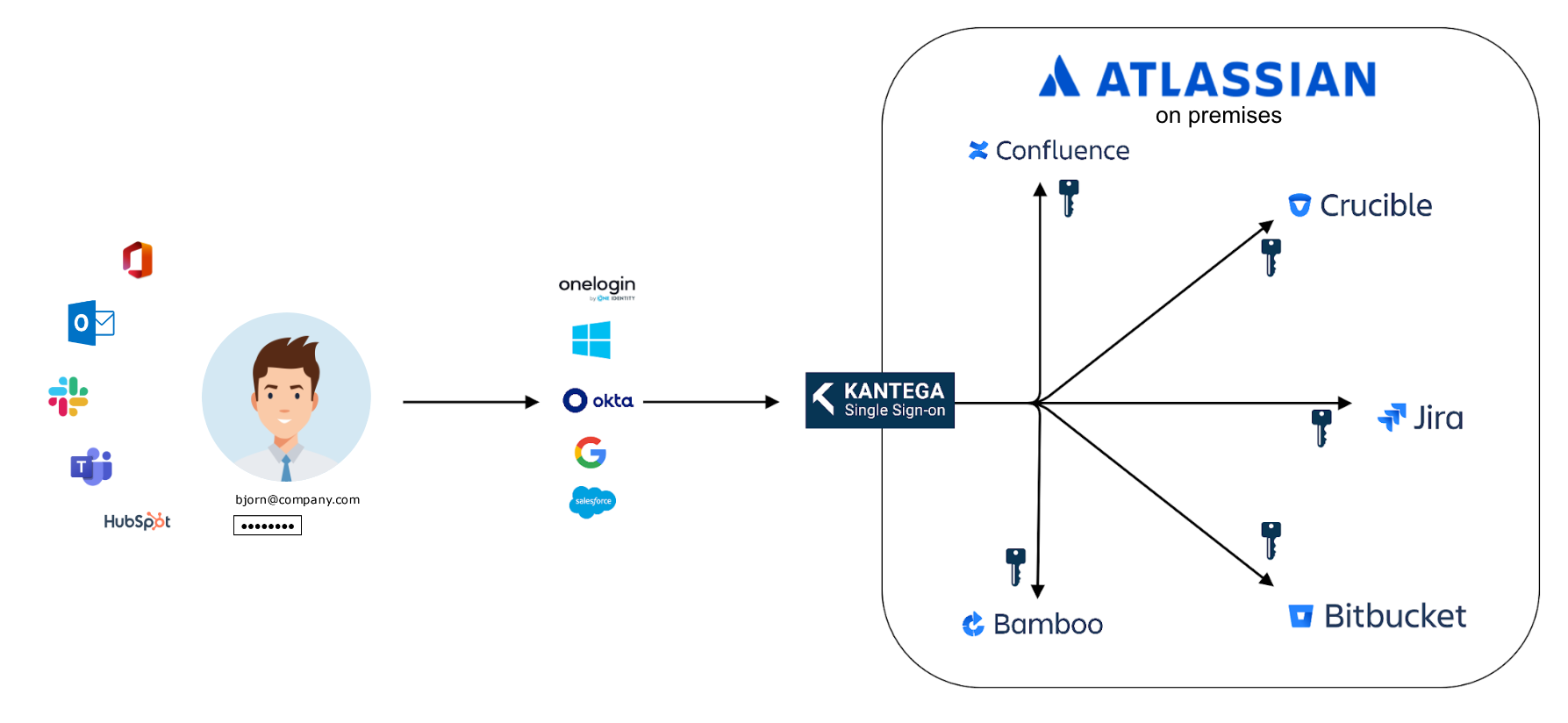 SSO for Atlassian server and data center
Kantega SSO makes user authentication and user provisioning work seamlessly on Jira, Confluence, Bitbucket and Bamboo. Our solutions makes it possible for SAML, OIDC and Kerberos to work in combination with each other, and in combination with any identity provider. For instance, an enterprise with users in Azure AD can benefit from password-less SSO with Kerberos, while mobile phones and other standalone devices are offered OIDC or SAML SSO.
You can learn more about our products in the Atlassian marketplace: