Building a self-service knowledge base with Jira Service Desk and Confluence
This article shows how you can combine Jira Service Desk and Confluence to provide solutions, knowledge and optimize the login experience.
---
A knowledge base stores helpful articles, such as how-tos and frequently asked questions (FAQs) that your team and customers can reference. Knowledge bases empowers support portals for both customers and support agents:
Customers can help themselves by searching for articles in the help center
Agents can solve requests faster by sharing articles with customers or referencing articles while they work
This technical quide explains how to Link a Confluence space to your Jira service desk.
The screenshot below shows how we at Kantega SSO link our confluence documentation as knowledge base in our Jira service desk support portal. In this particular example, you can see that a user typing in "How to setup single logout?" in the support portal get suggestions for articles describing this topic.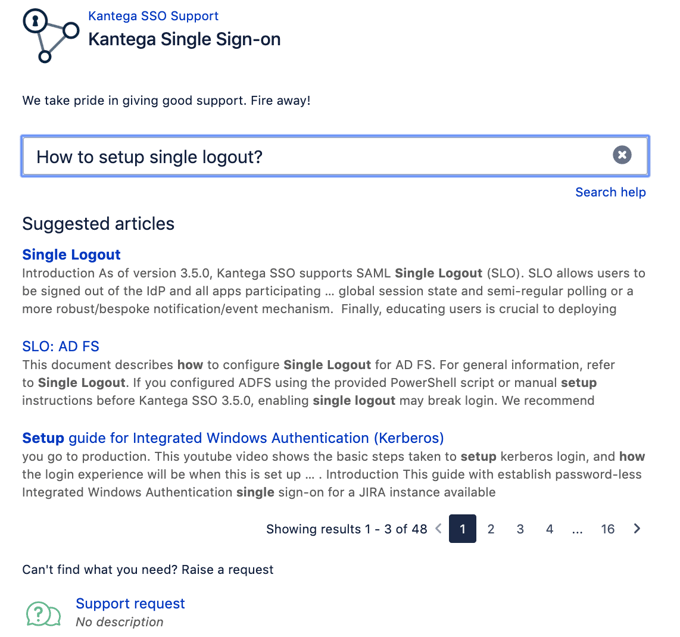 Provide Single-sign on to Jira Service Desk customers
Many of our customers apply Jira Service Desk in environments where also customers can benefit of SSO. It can be that both support agents and customers work in the same organization or that the customers work in partner companies where the set of identity providers are known. In these scenarios it is fully possible to setup SSO through both SAML and Kerberos for all.
2-step login is a useful feature in the scenario where multiple identity providers are available for different user types, allowing you to define login-redirection rules based on the email domain the users type in, the user directory they exist in or the group memberships they have.
Handle authentication on knowledge base contents.
Setup of Confluence as a knowledge base is very easy if the documentation is public and do not require authentication. However, this it not the case for many organizations. It is a common scenario that knowledge base articles should be available throught the service portal, but at the same time require authentication for users accessing this content in Confluence directly.
In Kantega SSO Enterprise, the solution for this is as follows: When you set up a Confluence as a Knowledge base, you get the default Jira Service Desk-specific permission of anonymous access as shown below:

If you are using SAML based login in Kantega SSO Enterprise, you must keep this default setting for your Knowledge base space. The reason why is that when JSD opens a Knowledge base article for viewing, this is done in an IFRAME. And in an IFRAME, most SAML identity providers are not allowing to show their login window.
If you would like to require a login to the Knowledge base space when users are visiting directly in Confluence, this can be achieved by the Forced SSO URLs feature.
Book a meeting with us if you need assistance setting up a knowledge base with SSO.